When I first saw this over at my go to site for authentic Mexican food (
La Cocina De Leslie
) I couldn't believe it was that simple. And it is!! I love how it is just throwing everything in the pot and within an hour and a half, it's done!
What is it you ask!? CHICKEN SOUP!! This is definitely something to have on a cold winter's day .. or in my house, just a regular day in April. The last time I made this, I had spent the whole morning grocery shopping. I was in such a hurry to get the groceries put up, baby fed, homework done all before class. I didn't have time to stand in front of the stove to cook so I chose this. And it worked out because I had some veggies in the fridge that needed to be used ASAP.
CALDO DE POLLO (CHICKEN SOUP)
10 chicken legs and/or thighs
3 ears of corn, cut up into small sections
1 medium onion, cut in quarters
1/2-3/4 bag (small) of baby carrots
1/2 head of cabbage, cut into wedges
3-4 stems of celery, cut into chunks
2 cloves of minced garlic
Salt
Water
GARNISH
Lime, diced onion, serrano peppers

Now this is real simple. If you blink, you'll miss it. Ready?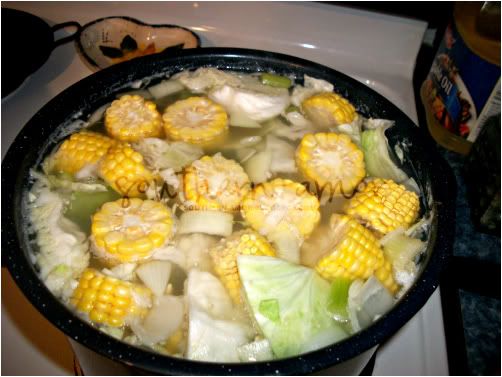 Put all veggies and chicken in the pot. Cover with water. Season with salt. Bring to a boil for about 15 minutes, let simmer until chicken is done (60-75 minutes). And that's it!! What did I tell you?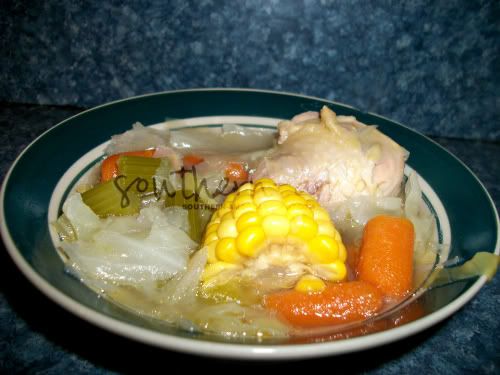 AND! if you're anything like my husband, you'll need a little of this.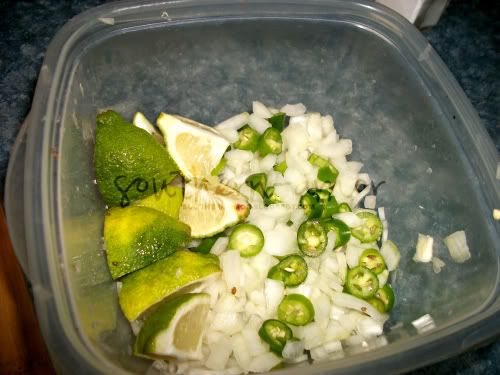 ENJOY!