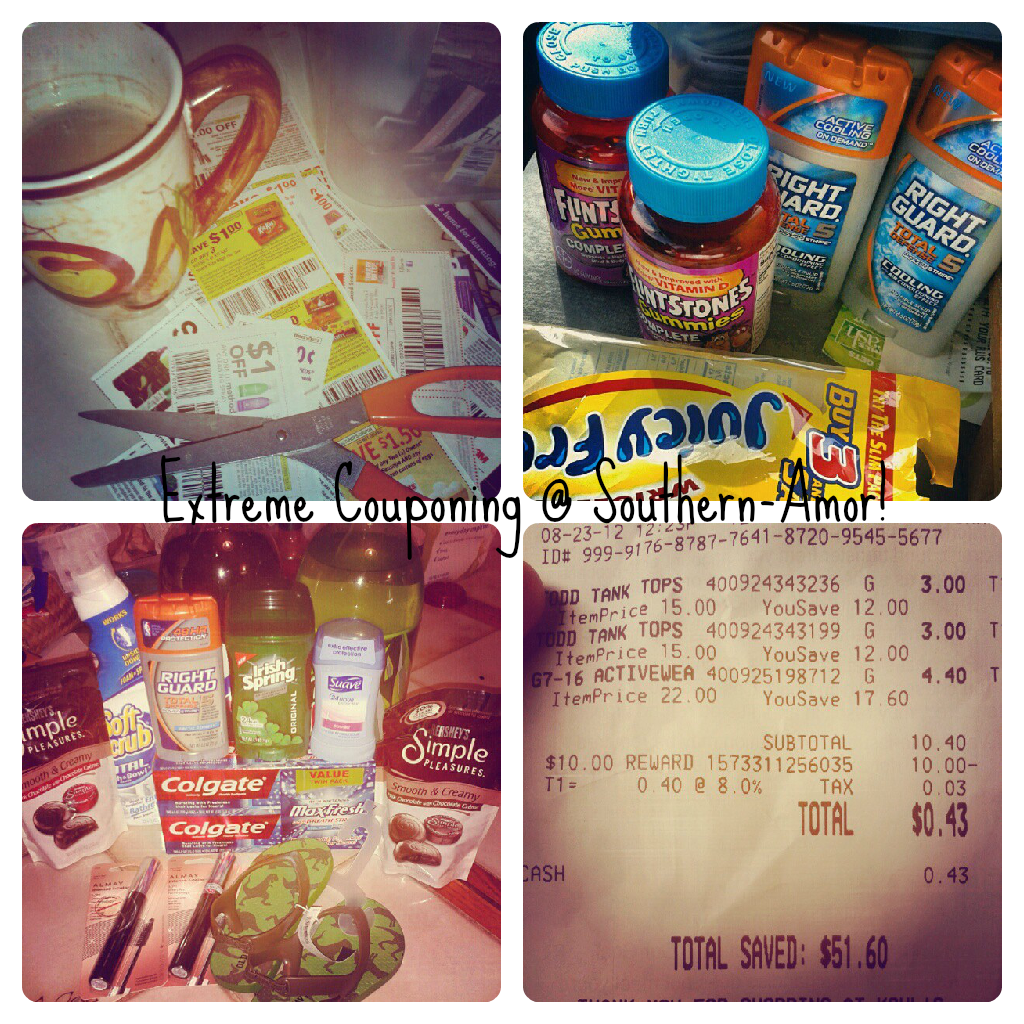 YES! You read that right! EXTREME COUPONING!!
After watching the show and dreaming of getting everything dirt cheap, I figured I HAD to try it!!!
Notice all the caps & exclamation points? Well you would be too if you were walking out of the store with receipts printing out high savings! It's a high, a rush, A DRUG! My mother asked me today after I walked out of Wal-Mart with 5 deodorants (that I bought for $1) if I really needed that many .. um, if I'm getting them close to free, then yes!
So all hype aside, this past week I've been a regular at CVS scoring some great deals. In the picture above, you'll see the vitamins, deodorant & gum : I paid $11.60 with around $13 savings. I was excited, considering the vitamins are $6. I was a bit pumped, after this trip. I was really only going in for some essentials with coupons in hand to lower the total. I mean, I needed the vitamins, the husband's deodorant was cheap and the kids were whining about gum. But while there, I had a coupon that printed out "$5 off $15 purchase". Now before when I saw these types of coupons, I would think "Not worth it" but after doing a little bit of planning, TOTALLY worth it.
My next trip, like I said, I planned a bit. I had to do it fast as the coupon would expire. I won't go into detail of what coupons I used and such, but what is included is 2 Almay mascera, 3 deodorants, 2 2L bottles of soda, 2 bags of candy, twin pack of toothpaste & bathroom cleaner. I spent $11.88 with a total savings of $38! The flip flops in the bottom corner were free with a "$5 off purchase" from a mobile app for Old Navy (SnapAppy).
And today, was my trip to Kohls. The week leading up to Tax-Free weekend I got a little gift card type deal in the mail. I don't usually shop at Kohls so it wasn't like a regular shopper reward or anything like that. Unlike Old Navy's coupon, this one said it would include sale and clearance items. So I did just that and hit the clearance racks. Two toddler tanks for the baby and 1 shirt for my daughter. And .. well I'll just let that last photo speak for itself.
I'm so happy I finally figured this stuff out. And I'm not expecting it to always be like this, obviously, but it's good to know I can go out, get what I need and not spend $50+ dollars.