Hope everyone had a great 4th. It was ok for us. Just a normal day of running around, the only thing different was R came home early. After cleaning up and some repairs around the house, the kids and I went down to the boardwalk (area) to watch fireworks. I say "area" because the traffic/people was insane, so we park in the Target parking lot down the street and stood at the edge of the street to watch. And I had doubted their size being somewhat far but they still came out gorgeous and big!
And that day was the last day of my precious camera. Granted I wanted desperately to get another one, I at least had a camera. Yesterday, I went to go put the batteries in and use it to take some pictures for a recipe, and the screen comes on shattered. :( I have no clue as to what happened, considering it was right by my desk the whole time, but it doesn't even take pictures. I was so upset.
Speaking of recipes, I wanted to post a how-to on rainbow cakes. I never knew how easy this was until I briefly skimmed over a recipe over at
La Cocina de Leslie
. Easy, easy!! Now I'll have to warn you on the quality of the pics. I had to use my BlackBerry (great phone, the camera sucks!) so eh ..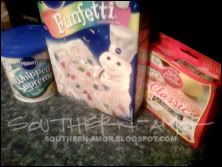 I didn't really want to learn a new cake recipe as well, so I just went ahead and used a box cake mix. I just wanted to grasp the concept of this.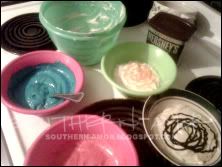 After following the instructions on the box, I separated the batter into 4 bowls and added food coloring and mixed it up.



Spraying the dish, I added each color one by one on top of each other and afterward took the dish to give a little shake to even it all out.

Followed baking instructions and came out with this beauty. Ignore the icing. I went a little too far to try a rainbow topping buuut didn't work.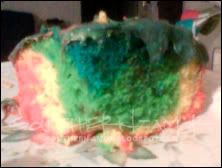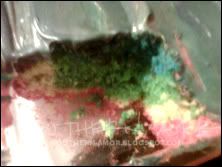 Isn't that awesome!! :) I plan on doing cupcakes for the kids' birthday. Should be a hit! :)