While stumbling upon ... well
STUMBLE UPON
haha, I found this recipe for a shrimp soup.
Hubby has been a tad obsessed with soups lately and Sunday has been branded "Seafood Day" (not really, but it sure does seem like it!) so I figured, when I found myself awake early this morning, I would go out and get the things for this. My only fall back, considering I know little-to-nothing about cooking, was not knowing the difference between ancho chile powder and chili powder. I stood in the seasoning aisle of my local grocery store, just staring down the spices for a good ten minutes. So I grabbed the chili powder in hopes it wouldn't really make a difference and while I was at it, grabbed the ancho chile pepper.
This soup is so delish! I'll be posting the normal recipe, but I tweaked a bit to make a tad more.
ANCHO CHILE SHRIMP SOUP
womansday.com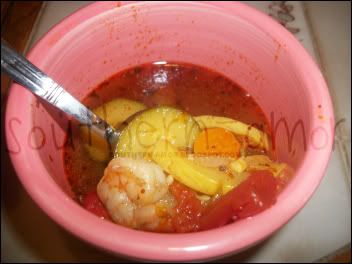 1 Tbsp olive oil
1 onion, diced
3 stalks celery, sliced
2 peeled carrots, sliced 1/4" thick wheels
1 green bell pepper, diced 1/2"
1 yellow zucchini, sliced 1/2" thick rounds
1 green zucchini sliced 1/2" thick rounds
3 cloves garlic, minced
2-3 tsp ancho chile powder
1 1/2 tsp dried oregano
1/2 tsp salt, to taste
1 can (14.5 oz) diced tomatoes in juice
8 C chicken broth
1/2 C corn kernals
1 lb Shrimp, peeled
Now first thing's first, considering I wasn't working with ready made chicken broth, while chopping up the veggies, I put a pot on and for every 2 cups of water I used one cube of chicken bouillon. I brought the water to a boil and let it simmer, til the cubes dissolved. I set it aside and got to working from the beginning.
First, I take my pot and drizzle in the olive oil. I take the first batch of ingredients (the veggies) and brown 'em up a bit.
After 2-3 minutes, I go ahead and pour in my seasonings (I ended up adding some of that ancho chile pepper in there, along with the salt), tomatoes and broth. Bring to a boil and then lower the heat.
Let simmer for 15-20 minutes. Once the veggies are slightly tender, bring it back to a boil and throw in the shrimp and corn. This next step won't take that long. After about 3 minutes, or once the shrimp have gone pink. Once your shrimp is cooked thoroughly you may serve!
Hubby loved it with diced onions & jalapenos and squeezed lime.
I tell you, I just loved eating the veggies and the actual soup itself. All day I was making myself little bowls of it. Yummy!