While surfing my
Twitter
today I saw this post from
~lilsugar
.
After I saw this, I figured I'd search for a great milkshake recipe. Even though the ones I saw looked tasty, I didn't have half of the ingredients. :( So I figured I'd come up with one of my own milkshakes with the things I already had on hand. This was actually delish! I've never made homemade milkshakes with ice cream (I did once way back when and my blender didn't like it too well) so this was an experiment for me.
CHOCOLATE COVERED CHERRIES MILKSHAKE
6 scoops of Cherry Vanilla ice cream
2/3 cup milk
chocolate syrup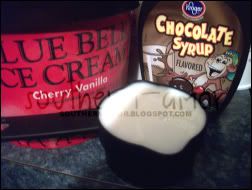 I really need a new camera. Or some better lighting in my kitchen.
So go! Go and celebrate Chocolate Milkshake Day!!
Follow my blog with Bloglovin